GEAR UP Kentucky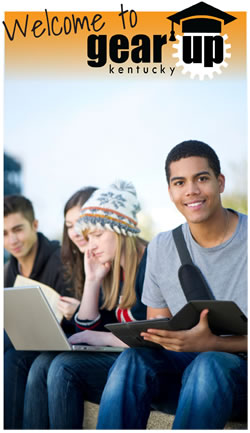 GEAR UP Kentucky is a competitive federal grant program designed to increase the college-going rate. In 2018, the Council was awarded a seven-year, $24.5 million grant to serve at least 10,000 middle and high school students in at least 10 school districts. This is the fourth GEAR UP state grant for Kentucky that has been administered through the Council.
How GEAR UP works in schools
GEAR UP Kentucky will be working with 12 school districts, as well as their students and families and surrounding communities, to research, identify and test strategies for reproducing a sustainable college-going culture. For the cycle of the grant, 2018-2025, the schools are
Bath County
Bourbon County
Bracken County
Covington Independent
Fleming County
Frankfort Independent
Marion County
Mason County
Mercer County
Paris Independent
Pendleton County
Robertson County
Services are aligned to the Four Pillars of Student Success, a theoretical framework used to engage, develop and mobilize students and their key influencers in pursuit of student success.
Self: Curriculum; advising and assessments; campus experiences; and leadership development.
Family: Curriculum; advising and support; campus experiences; and leadership development.
Institution: Technology and assessments; peer learning community; professional development; and leadership development.
Community: Communication campaign; statewide institute; partnership development; and leadership development.
How GEAR UP benefits Kentuckians
GEAR UP helps students prepare academically, financially and socially for college success. The number of GEAR UP students meeting benchmark scores on college readiness assessments consistently increased between seventh and ninth grade and the gap between GEAR UP students and all Kentucky students closed in three of four subjects between eighth and 10th grade. Additionally, the percentage of GEAR UP students reporting college options and how to prepare increased an average of 24 percentage points between middle and high school.
How GEAR UP helps us toward 2030 goals
The college graduation rate for low-income students is 12 points lower that the state average. These students need targeted resources, strong advising and clearer pathways to ensure they have an equal opportunity for success. To address these needs long-term, GEAR UP focuses on building a college-going culture through early awareness and ongoing supports in Kentucky schools and communities that will sustain beyond the life of the grant.
For more information about GEAR UP Kentucky, contact Missy Ross at missy.ross@ky.gov.