The Council works with public institutions to set caps on tuition and fee rate increases to address affordability, while still meeting institutions' revenue needs.
Why Kentucky needs tuition oversight
Maintaining college affordability is critical to increasing college access. However, state cuts to higher education over the last decade have shifted a larger portion of college costs to students and their families. The Council works with Kentucky's public institutions to moderate tuition increases to ensure the price and the cost of a college credential is cost-effective for students and institutions alike.
How the Council helps tuition-setting at public institutions
In 2008, the Council created a tuition and fee policy that sets up a regulatory framework for determining tuition and fee increases at Kentucky's public institutions. The policy sets caps on increases to keep increases under control. College boards then self-select tuition increases that fall under these caps. This collaborative process among the Council and campus leadership takes into account:
Students' family and individual incomes and their capacity to save for college.
Federal, state and institutional scholarships and grants available to assist with tuition costs.
Students and parents' reliance on loans and potential debt levels.
The need to enroll and graduate more students to build Kentucky's workforce.
In determining rates, the Council also considers the actual costs associated with an education at Kentucky's public institutions. These costs range from faculty salaries, pensions and benefits, building maintenance to student services.
The Council's role as mediator balances students' and families' ability to pay for college, as well as the institutional revenue needed to partially offset decreases in state funding and increased costs. In addition, as the developer of statewide higher education goals, the Council reviews Kentucky's economic climate and market needs.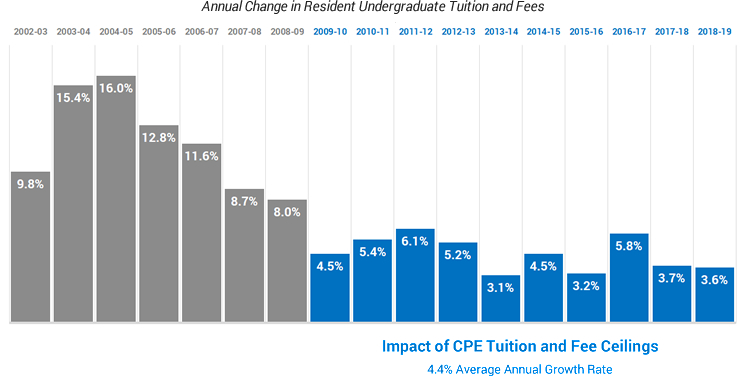 Working toward affordability
Apart from the tuition-setting process, the Council works throughout the year with campuses, state policymakers and other organizations to provide options that help students save on college costs. These include dual-credit opportunities, initiatives to promote on-time graduation, financial literacy programs, campaigns that increase the number of students completing the Free Application for Federal Student Aid (FAFSA), and advocating for sufficient state operating and financial aid support for Kentucky's public campuses.
How tuition setting benefits Kentuckians
High quality degrees need to be affordable to Kentuckians, particularly for low-income families. With the rising workforce demand for a college credential, it is vital that citizens have access to higher education, regardless of economic status. Since the policy's adoption, resident undergraduate tuition and fees has increased at an average annual rate of 4.6 percent, a 60 percent reduction compared to the previous seven years. In the 2018-19 academic year, the adopted tuition ceilings will result in the lowest system average rate of increase in more than a decade. Tuition policy is the primary tool the Council has to influence college affordability and access.
How tuition setting helps us toward 2030 goals
Significant cuts to public higher education over the last decade have shifted a larger portion of college costs to students and their families. Unfortunately, state financial aid resources are not keeping up with higher prices and increased demand. Tuition setting moderates college costs, making degrees more accessible to Kentuckians.
---
Learn more about Kentucky's education goals by viewing Stronger By Degrees, the Council's strategic agenda for postsecondary and adult education.