Kentucky's state universities and KCTCS received state appropriations based on historical funding amounts, not performance. The Council's new funding model incentivizes institutional success in order to meet state education goals.
Why Kentucky needs a performance-funding model
In recent years, Kentucky's leaders allotted state funding based on each public institution's share of the higher education budget. These appropriations did not address a campus's capacity to help meet state education goals. To reinforce the need for an educated workforce and populace, in 2016 state leaders directed the Council to develop a funding model that binds state funding, in part, to performance.
The Postsecondary Education Working Group
KRS 164.092 was originally adopted through Senate Bill 153 in the 2017 Regular Session. It created the comprehensive funding model for general fund appropriations. Section (11)(a) directed the CPE to establish the Postsecondary Education Working Group to determine if the comprehensive funding model is functioning as expected, identify any unintended consequences of the model, and recommend any adjustments to the model beginning fiscal year 2021, and every three (3) fiscal years thereafter.
Per statute, the working group is comprised of the president of the CPE; the president or designee of each public postsecondary institution, including the president of KCTCS; the Governor or designee; the Speaker of the House or designee; and the President of the Senate or designee.
Video recordings of the meetings are available on the Council's YouTube channel.
The goals of the model
Kentucky's new performance funding model focuses the state's community colleges and universities on raising Kentucky's educational attainment level from 45 percent to 60 percent by 2030, as outlined in the state's strategic plan for postsecondary education. Achieving this goal is critical to accelerating job creation and a stronger economy through a more highly skilled and productive workforce and educated population.
Specifically, the model's goals are to
Increase retention and progression of students.
Increase the number of degrees and credentials earned by all types of students.
Grow the number of degrees and credentials that garner higher salaries upon graduation: STEM+H fields, high-wage, high-demand fields.
Close achievement gaps by increasing the number of degrees and credentials earned by low-income, minority and underprepared students.
How the new model affects institutions
The models for the public universities and KCTCS will be phased in over three years, beginning in fiscal year 2018-19. The model distributes funding based on three basic components:
Student Success (35% of allocable resources distributed based on relative success in achieving student progression milestones and degree and credential production).
Course Completion (35% of allocable resources distributed based on share of earned student credit hours).
Operational Support (30% of allocable resources distributed in support of vital campus operations, services, and infrastructure related to student learning and success).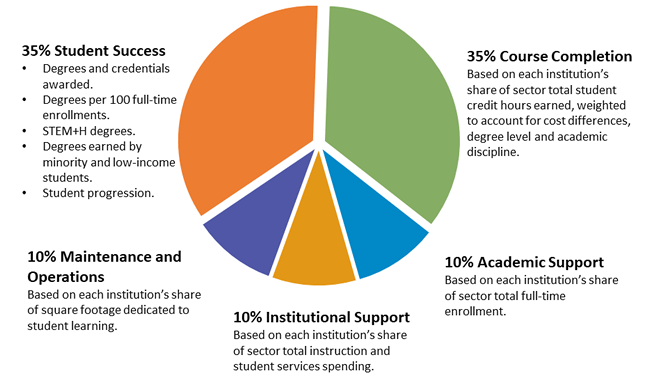 A hold-harmless provision, which prevents the transfer of any state General Fund appropriations among institutions, is included in the first year. In the second and third year, the bill institutes one and two percent stop-loss provisions, which limit the amount of potential transfers among institutions in fiscal years 2019-20 and 2020- 21, respectively. Beginning in 2021-22, hold-harmless and stop-loss provisions will sunset, allowing distribution of 100 percent of allocable resources as determined by the formula.
How Kentucky benefits from a new model
Aligning state funding with college completion increases the possibility of boosting state educational attainment. An overall rise in the number of graduates maximizes taxpayers' return on investment in higher education and translates to a more highly skilled workforce in the future.
Emphasizing on-time graduation will help reduce college costs for Kentucky's students and families. The model gives financial incentives to institutions to produce high-paying STEM+H degrees. It also encourages campuses to take aggressive measures to close achievement gaps and better minority and low-income students as they pursue college credentials.
How performance funding helps us toward 2030 goals
Kentucky's colleges and universities provide a wide array of programs and services to their students. Incentivizing success helps focus their efforts on constant program improvement. It also spurs campuses to innovate to produce Kentucky's future leaders and workforce.
---
Learn more about Kentucky's education goals by viewing Stronger By Degrees, the Council's strategic agenda for postsecondary and adult education.